Dinner Menu
This slideshow requires JavaScript.
Paterno's Restaurant in Charleston WV is open for dinner Tue-Thurs from 5pm-9pm and Fri-Sat from 5pm-10pm. Private parties are available any day through our catering manager.
Dinner Menu Antipasto (APPETIZERS)
MUSHROOM ARANCINI
(V)
Breaded and fried risotto balls
SALUMI PLATTER (FOR 2)
Assortment of three Italian cured meats and cheeses, roasted almonds, and local honey

STEAMED MUSSELS
(GF)
Pinot Grigio, lemon, roasted leek butter, and parsley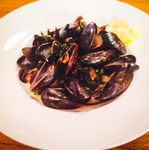 COLOSSAL MEATBALLS
Meatball, marinara, and crispy polenta cake
BASIL CHICKEN MEATBALL SKEWER
Three chicken meatballs skewered with toasted focaccia and a basil marsala sauce
STUFFED PEPPERS
House made sausage, hot peppers, marinara, and shaved parmesan cheese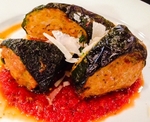 SHRIMP ASIAGO
Baked with tomato, spinach, and lobster cream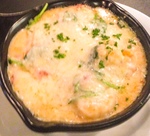 CALAMARI
Breaded squid served with banana pepper relish and tomato dipping sauce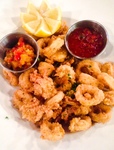 LAMB LOLLIPOPS
New Zealand lamb lollipops, rosemary demi on a bed of farro

GARLIC BREAD
Dinner Menu Zuppa (SOUP)
ITALIAN WEDDING
Chicken broth, house made meatballs, acini de peppe, and spinach
TOMATO BISQUE
CAESAR SALAD
Romaine, ciabatta croutons, creamy caesar dressing, and shaved parmesan cheese

HOUSE SALAD
Romaine, arugula, ciabatta croutons, cherry tomatoes, red onion, pepperoncini, and shaved parmesan cheese

CITRUS SPINACH
Baby spinach, red grapes, gorgonzola cheese, pine nuts, and citrus dressing
CAPRESE SALAD 
(V)
(GF)
Heirloom tomatoes, torn buffalo mozzarella, fresh basil, balsamic reduction, and olive oil
ITALIAN WEDGE
Romaine heart wedge, pancetta, cherry tomato, and gorgonzola cheese
ADDITIONS
Grilled chicken breast
Pan seared salmon
Sautéed shrimp
Sautéed scallops
Dinner Menu Primi
PAPPARDELLE BOLOGNESE
Ribbon pasta with meat ragu
RIGATONI AND MEATBALLS
House made meatballs, marinara, and rigatoni pasta

LASAGNA BOLOGNESE
Layers of pasta, meat sauce, sherry cream, and Italian cheeses
SHRIMP SCAMPI
Sautéed shrimp, lemon juice, roasted garlic butter, and angel hair pasta
PASTA NIKI
Shrimp, mushrooms, and tomatoes sautéed and tossed with truffle cream and pappardelle pasta
SPAGHETTI MARINARA
(V)
House made tomato sauce
FETTUCCINE ALFREDO
(V)
Parmesan and garlic cream sauce over fettuccine pasta
SAUSAGE AND PEA RIGATONI
Italian sausage with peas and shallots tossed with a parmesan cheese sauce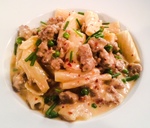 STUFFED SHELLS
(V)
Baked with ricotta, asiago and mozzarella cheese filling, topped with marinara
substitute Bolognese +4
VEAL PICATTA
Sautéed veal, lemon caper butter sauce over risotto, and seasonal vegetables
8OZ CERTIFIED ANGUS BEEF FILET
(GF)
Grilled certified angus beef with an herbed, red wine, butter sauce, dauphinoise potatoes, and seasonal vegetables

PAN SEARED SALMON
(GF)
Salmon filet, crispy polenta cake, seasonal vegetable, and balsamic glaze
BASIL CHICKEN
Pan roasted all-natural chicken breast, marsala and basil cream, tomato risotto, with a seasonal vegetable. (Also available picatta style)
EGGPLANT PARMESAN
(V)
Layers of fried eggplant, marinara sauce, and Italian cheeses

CHICKEN MARSALA
Sautéed chicken and porcinis in a marsala cream sauce served with slow braised broccolini and roasted fingerling potatoes
LINGUINI & CLAMS
Clams simmered in garlic and wine tossed with linguini pasta, choice of tomato or garlic wine sauce

Dinner Menu Contorni (SIDES)
Crispy polenta cake
Seasonal vegetables
Italian sausage patty
Risotto
Meatball
Pasta marinara
Pasta alfredo
Pasta bolognese
Dauphinoise potatoes
Dinner Spring Seasonal Menu
This slideshow requires JavaScript.
LOBSTER RAVIOLI
Charleston bread made ravioli with heirloom tomatoes, sweet corn, and basil cream sauce
CAMPANELLE WITH SCALLOPS
Charleston bread made campanelle pasta, seared scallops with cherry tomatoes, pancetta, and mint tossed with ricotta cheese
SUMMER SALAD
(GF)
Grilled shrimp, blistered tomatoes, caramelized onions, marinated portabellos, grilled corn, and spicy ranch dressing
CAST IRON SKILLET SEARED 30OZ PORTERHOUSE
(GF)
Herb basted seared porterhouse with a leek and parmesan twice baked potato
FLAT TOP SEARED PATERNO BURGER
Seared beef patty with pancetta, fig jam, caramelized onions, and melted gorgonzola cheese on a Charleston bread brioche bun. Served with fries.
GRILLED PISTACHIO SWORDFISH
(GF)
Grilled swordfish topped with melted pistachio butter served with roasted red pepper risotto, grilled zucchini, and squash
PEACH BOURBON BARBEQUE PORK CHOP
(GF)
Berkshire grilled pork chop with peach bourbon barbeque sauce, braised cabbage, and an ear of grilled parmesan corn
POTATO GNOCCHI PRIMAVERA
Gnocchi tossed with green and red tomatoes, baby zucchini, asparagus, and a light butter, lemon sauce
STRAWBERRY SALAD
(V)
(GF)
Strawberries, spinach, arugula, candied onions, gorgonzola crumbles, cashews tossed in a citrus vinaigrette
SMOKED ITALIAN BEEF BRISKET
House smoked brisket rubbed with Italian herbs, roasted brussels sprouts, and Tim's famous mac and cheese
LEMON LAVENDER BRAISED CHICKEN
(GF)
Airline chicken breast braised with lemon, lavender, and honey with sautéed salad greens and Carolina gold rice
QUINOA AND POACHED SALMON SALAD
(GF)
Harvest salad mix tossed with quinoa, avocados, tomatoes, cucumbers, and red onion in a citrus dressing topped with poached salmon
(V) – Vegetarian
(GF) – Gluten Free Option. Gluten-free pasta available upon request.
Consumption of raw or undercooked food may increase your risk of foodborne illness.
PLEASE ALERT YOUR SERVER OF ANY ALLERGIES YOU MAY HAVE.